College is a scam
---
Do you need college to succeed in life? Hell no!
"Go to college, get all the degrees you want, but after that, for the love of God, DO SOMETHING"
- Lee Iacocca
---
PREFACE:
I am the owner of WallStreetForum.net and I do NOT have a college degree. I got into the stock market at the age of 19. By the time I hit 24 I was starting to have 5-6 thousand dollar days...
There are two main reasons why college is a scam and why most people that go to college probably shouldn't.
There are too many people with college degrees.

The cost of college puts the average student into crippling debt.
This is a touchy subject for most people but in this article, I'll try my best to expose the myth that you need college to succeed using thought-provoking facts and a few opinions.

Let's get one thing straight before we get too deep into this article. I'm not against a college education mainly because I know there are certain jobs that you are legally required to get a degree for. There's no way around that. What I want to get at in this article is the lie that so many people have used over the years. " I need a degree in order to succeed at anything" that is the lie I want to stop in its tracks.





The debt
In May 2012 student loan debt crossed the 1 trillion dollar mark. - SOURCE
Student loan debt in the United States is 1.6 trillion dollars (2019) - SOURCE
About 1 in 8 (12.9% or 42.9 million) people in the United States carry student loan debt. SOURCE
The Bennett hypothesis
In 1987, U.S. Education Secretary Bill Bennett theorized that increases in federal student aid would cause an increase in college tuition. Some have called this hypothesis bunk but others believe wholeheartedly in it. The general idea is that if the government backs student loans and guarantees that the student absolutely has to pay it back then of course colleges and universities would raise the price to attend school. What would you do if you were a lender of any kind and you knew that once your borrowers took money from you they absolutely had to pay it back one day? The answer is you would increase the amount of money that you let people borrow. Which would you rather have, a person that owes you a guaranteed $5K or a person that owes you a guaranteed $50K? The answer is obvious. You want people to owe more. It's a bit different with schools because they get their money up front and the student just spends a lifetime repaying the loan. Either way, the school wants more money spent on their courses to line their own pockets. Do not be gullible or naive.
Bankruptcy
Student loan debt is all but impossible to discharge in bankruptcy proceedings
SOURCE
. In other words, you are stuck with student loan debt until you pay it off if you ever do. The conditions needed to discharge student debt in bankruptcy are highly unlikely to be true in the average person's situation so most won't qualify.
21 years
It takes the average student loan borrower 21 years to completely pay off student loan debt
SOURCE
. If you graduate at 22 you're looking at a payoff age of around 43 years old. Half your life is over and now you can finally be free of your debt. What an efficient education system we have(sarcasm).
Whenever I have tried to tell people that college is a scam and it has nothing to do with making money I would always get ridiculed, laughed at, made fun of, and put down. Now that some time has gone by I've been proven right. Now those same people would LOVE to be in my shoes instead of their own. This picture illustrates my point perfectly:
I can't tell you how many situations I've been in in my life where something was glaringly obvious to me but NOBODY around me could see it or figure it out. I was saying college was a scam WAY before it became popular to say it. College not guaranteeing a good job has always been common sense to me but most people don't have any common sense.
.......................................

"Don't listen to the masses because the masses are often dumbasses"
---
There are too many people with college degrees.
Ever since you were young someone has been telling you to get good grades in school so that you can get into a good college, get a good-paying job, and live a good life. People say it so often and in such uniform fashion that it almost seems like they're reading it from a script. It has gotten to the point where people just say college leads to a good life without actually believing it. It's more like saying something just to say it instead of it being a factual statement.
I've worked in restaurants and when I first started in the field I noticed a strange phenomenon. Even though I had been to culinary arts school I couldn't get my foot in the door of a restaurant. I would interview for jobs and not get them. A guy would walk in after me with no formal education but 15 years of restaurant experience and get the job. That's a real-life example of bringing more to the table than a degree. Bring hustle to the table.
What is hustle? Hustle is hard work. Hustle is anything that makes you stand out from the crowd. Hustle is more than burying your face in a book and hoping that will lead to the good life. Most people have no hustle.
In the 1940s to 1950s only around 5-10% of the population went to college. Today around 65-75% of all high school graduates go to some kind of school after graduating.
There are 328 million people in the United States(2021). 99.5 million of those people have earned a bachelor's degree or higher. SOURCE
That amounts to about a third of the population. A third of the US population has a college degree??? How can any logical adult think that's a good thing? If a third of the population has a degree will they all be able to get high-wage jobs? Of course not. Life doesn't work that way:
Average American salary
$31,133

(2019)
That number includes college graduates as well as non-college graduates. Sure, one could argue that the non-college graduates are bringing down the average but that may just be wishful thinking on behalf of a person who isn't willing to see the truth.
Every college graduate that I know works a regular job making regular wages. Nothing spectacular. Nothing to write home about.
The fact is the simple concept of supply and demand can be applied to college. There is a surplus of college graduates while demand for those graduates is dwindling by the day. Plain and simple.
Imagine for a second that the year is 1942 and you walk up to a complete stranger on the street and tell them that you are a college graduate. That person would be impressed because in 1942 you didn't meet college graduates every day. Fast forward to the present and say the same thing to a stranger. They would look at you with the most vacuous look they could possibly muster. Why? Because most people go to college these days. Most people do something after high school. With all these people furthering their education it was inevitable that the job market would get flooded with college graduates who thought they were set for life just because they went to college. Life doesn't work that way. In this day and age, you're going to have to bring more to the table than just a degree because like I just said, everyone gets some kind of education after high school. That's why college graduates are now being forced to take jobs that they could have easily gotten straight out of high school. In other words, they're working jobs that never required a degree.



The idea that a college degree equals success is a formula. Formulas for making money never work forever. Once everyone has accepted and adopted one way of making money that method stops working.

Example: There is a little side road near my house that I had used as a shortcut for years. The shortcut would bypass the traffic and make life really easy. Over time this shortcut became known to other drivers and before I knew it the "shortcut" was jam-packed with drivers. So much for that... A good idea had been watered down until it didn't work at all.
---



Going to college to get a better life or more money is like going to AutoZone for an oil change. You're kind of in the right place but not quite. (You can't actually get an oil change done at an AutoZone location)


We use a flawed education system in many ways. We teach kids subjects they could never use. Have you ever asked a teacher "how can I use this?" only to watch the teacher pull some half-assed response out of nowhere? After elementary school, it gets exceedingly more difficult for teachers to explain why they're teaching you what they're teaching you. I once read an article that examined the absurdity of the things kids learn in school. In the article, they quoted actual high school teachers who agreed there was no good reason to be teaching kids calculus, trigonometry, and other forms of advanced mathematics. Two or three of the kids in a class of thirty might go on to need that information but why in god's name are the others learning it? Because the system is flawed. We need to be teaching kids basic subjects and let individuals take it from there. If they want to go into fields that require specific courses then take them but don't force useless knowledge on everybody as if it's going to help them. We need to be teaching kids to manage money or how to become entrepreneurs or wall street types but of course, we don't. We teach kids to listen and regurgitate information told to them. In other words, we train parrots.
Read:
America May Have Too Many College Graduates
Read:
How The 'College-For-Everybody' Agenda Harms Both Students And The Economy
Read:
Why Are So Many College Graduates Unemployed?
Read:
Are Too Many Students Going to College?
Read:
Your College Degree is Worthless
Read:
Here's Why No One Gives A **** About Your Degree
Read:
No One Cares About Your College Degree Anymore
Read:
Higher Education Is A Giant Ponzi Scheme
Read:
Too many bachelor's degrees for too few skilled jobs
Read:
6 Reasons Why College Is A Complete Scam
Read:
College Isn't a Cure-All
Read:
Is America Saturated with College Grads?
Read:
The job market is hot. So why are half of U.S. grads missing out?
Read:
Is there saturation of university graduates in the labor market?
Read:
5 reasons your new bachelor's degree is worthless
Read:
Why the Traditional 4-Year Degree Isn't Cutting It Anymore
Read:
'Degree inflation': How the four-year degree became required
Read:
Can't find a job after college​? This is why.
---
Money management
Everyone wants to make more money and their plan for doing this is to go to college. No one ever stops to worry about how they will keep the money. No one worries about money management. Making more money is useless if you spend it all. Look at some professional athletes. They'll get paid millions of dollars and still end up broke. Let's say you do go to college and get a nice 6 figure salaried job. It sounds great but the average American would blow it by buying a fancy new car, a new house, new wardrobe, and other crap. Making more money is not a cure-all.
Always remember, it's not all about how much you make it's about how much you keep.
The can opener test
I've noticed a phenomenon amongst college students and recent graduates. Most people who have recently gone to college lack basic life skills, common sense, street smarts, and critical thinking skills. This is most likely because college, parents, and society only preach SCHOOL. It gets drilled into their brains so much that they block out everything else. If you put a can opener and a can of beans in front of a recent college graduate and ask them to open the can they probably couldn't do it. Opening a can would be classified as a basic life skill. What does all of this mean? A college degree doesn't amount to a hill of beans!
False correlations
I once heard a girl say she would be successful with her college degree because her father went to college and he makes lots of money. My response was basically "what the hell does that have to do with you?". Her father went to college 30 years before she did. You have to be a serious idiot to think the effectiveness of anything would remain the same after 30 years. This girl is also the same person who didn't know how many continents there are or how many states there are in this country. People like that are just in for a big disappointment. A school doesn't magically help you if you aren't that bright, to begin with.
Also, you really need to start asking recent college graduates about their experience after college. Basing your expectations on what happened to someone 30 years ago is just asinine and ignorant.
Children believe in college
The largest demographic of people who believe in college are people who are in college or on their way to college...in other words, children. Children often have a naive and childlike way of looking at the world. Children are sheltered from reality well into their twenties. An alarming number of college graduates receive a rude awakening after graduating. The ideal 6-figure job is not waiting for them like they thought it would be. The world is not their oyster as they had been told it would be many times throughout life.
I am by no means religious but I believe this bible verse sums up this passage perfectly:
1 Corinthians 13:11

When I was a child, I spoke as a child, I understood as a child, I thought as a child; but when I became a man, I put away childish things.
The story of Frank
I once had a conversation with a guy named Frank who had two bachelor's degrees. Frank was 23 years old and working as a bartender and told me he had been having trouble finding a job in his field because every time he would interview for a job that actually related to his degree the company would offer him around $12.50/hr. That is the sad reality of the world we live in. College was bound to become overly exploited and done to death. Too many people have degrees which of course waters down the value and benefit of having one.
---
Real-life contradictions
I often base my opinions on real-life people that contradict everything you were told growing up. The majority of people I went to high school with that got degrees work at regular jobs. They're teachers, warehouse workers, postal workers, customer service reps, etc. Everyone has this fancy, rosy-eyed view of how their life will turn out because they go to a building with doors and windows a.k.a. college. Life is not some pretty magical place where everyone makes millions. Someone has to work at the post office regardless of whether or not you have a degree. Accountants have college degrees but the last time I checked they weren't rolling in dough from crunching numbers. Social work, graphic design, family therapy, news reporting, and radio announcing all require a degree and they all
usually
pay under $50k/year. Just going to college is not going to magically put lots of money into your pockets.
You have to adapt. You can't expect the effectiveness of anything to remain the same over decades.
Here are a few examples of entire industries that have been completely changed forever because they didn't adapt...I'm sure the major players in these industries thought the party would never end:
Cable TV
roadmap companies
encyclopedias
travel agents
magazines and newspapers
video stores
Underemployment
Underemployment rate of U.S. college graduates by major 2020. This statistic shows the number of recent college graduates who were underemployed in the United States, by college major. As of July 2020, around 73.2 percent of recent college graduates who majored in criminal justice were underemployed.
-
SOURCE
READ:
41% of Recent Grads Work in Jobs Not Requiring a Degree
The following image is from a post in a group on Facebook that pokes fun at the unbelievable stories people post on social media. Ignore most of the text and pay attention to the fact that he has a degree but works at Starbucks. The comment section was FULL of people who had no problem believing that part. Take a look at many of the comments under the picture:
---
College discussion screenshots
Anyone working at Starbucks with a college degree?
Is college degree oversupply a problem in America?
---
Student loan debt statistics (2018)
.
.
College grads expect to earn $60,000 in their first job—here's how much they actually make
Student loan forgiveness
At the time of writing this passage (2021), the big buzz topic is student loan forgiveness. Many college grads are advocating for their student loan debt to be wiped out. When you were younger, your parents, teachers, and society, in general, told you that if you went to college and took out student loans that you would get a high-paying job after graduation and be able to easily pay off the loans. If that was true then why would there be so many graduates advocating for student loan debt forgiveness? Aren't they supposed to be rolling in dough and be easily equipped to pay off the loans within a few years of graduating? College is a scam that is being exposed as such by the day. Don't fall for it and don't let anyone you know fall for it.
---
The Solution
If the traditional education system is broken then what are your alternatives?
Google
YouTube
Amazon.com
Anyone who believes you literally have to walk into a school and take classes to learn everything in this day and age is purposefully blocking modern education tools from entering their minds. School is everywhere. "I don't know" is no longer a valid excuse. You can find the answer to almost any question in under 5 minutes.
Everything I know about the stock market can be traced back to Google, Youtube, and Amazon.
Best occupational alternatives
Investing/Trading
Trading and investing are obviously my favorite alternatives to traditional occupations because I have been trading and investing a very long time. I began trading stocks around the time that most people would have entered their sophomore year of college. I had no real debt so it was probably the most opportune time to begin trading. If I had gone to college and taken out student loans I wouldn't have had any money for the stock market. I would have had a load of debt after graduation and a crappy job that would have never allowed me to pay the debt back. Even as a kid I was more financially savvy than the average American.
Start a business. Online or traditional
When people brag about having a degree they're doing it to get a pat on the back but that pat will never come from people like me. A truly informed individual only applauds a healthy investment portfolio filled with stocks, real estate, business ventures, etc. Just going to school doesn't warrant a celebration. It means you went to a school and learned some stuff. What do most people do after learning that stuff? Not much.

My two main revenue streams are the stock market and this website. They are both excellent income streams and have served me better than any job ever could have.

It doesn't matter if you want to start an online business(website, online store, software, etc) or a traditional business you can find all the information you need online. Just look for it. College is no longer the only game in town.
The Three C's
To be successful in this day and age you have to be a master of the three C's
Be CREATIVE

Be CLEVER

Have COMMON SENSE
People place too much emphasis on gaining a lot of useless knowledge and forget about the three C's. The three C's will make you rich if you employ them correctly.
---
*Bonus*

The College Myth
is a great read that exposes all of the lies you were told growing up.
The Higher Education Bubble - another great read exposing the myth of college = success

The case against college - A book that examines why most people shouldn't go to college
Isaac Moorhouse:
YOUR COLLEGE DEGREE IS WORTHLESS
Quora: Do too many people go to college?
---
The Ultimate College Scam: Documentary on the Higher Education Conspiracy (Full Documentary)
---
---
*SATIRE*
(sometimes the best way to deliver a difficult message is through comedy)
This video pokes fun at the idea that most college kids have/had which states that "if you go college you'll make a bajillion dollars and everything will be perfect and easy for you"
And here's a comment made under that video on youtube. This story isn't rare.
---
*SATIRE*
This is a compilation of comedians doing jokes about the uselessness of college(for most people)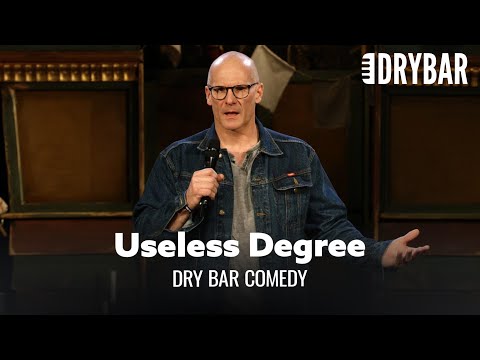 ---
---