Courtesy Of Financial Samurai
Despite publishing cautionary posts about investing in stocks, bonds, and alternatives at current levels, the biggest caution I should be writing about is taking out massive debt to buy property at record highs.
If you lose 50% on your stock and bond portfolio, you'll be upset, but fine. If your property loses 20% of its value, however, this means you've lost 100% of your 20% downpayment. In this scenario, you'll also probably still be fine – if you don't have to sell. But when property prices correct by 20% or more, many people become forced sellers because they've also lost their jobs.
I understand that millennials are coming of buying age and inventory is on the decline, making competition for buying a home fierce. However, only if you are fully cognizant of the following points I've highlighted below should you proceed with a property purchase today.
Things To Know Before Buying Property in 20181) Rents have softened from peak levels in many of the most expensive cities.
Given property prices are a function of rental income multiples, a real estate buyer should be looking to buy at similar pricing discounts from peak rental periods. For example, research whatever comparable New York property you want to buy today that was sold for in March 2016 and aim to buy at a 14.8% discount to the March 2016 price because that's how much rent prices are down.
In 2017 I experienced softening rents first hand when I tried to find replacement tenants for my SF rental house at a similar rent of $9,000 a month. After 45 days of aggressive marketing, I only got two offers, both for $7,500 (-16.7%). I even hired a rental listing agent for two weeks to find people for at least $8,000 and he failed. As a result, I sold. Pricing pressure starts at the most expensive markets and works its way down. The large supply of condos in many expensive cities has really put a damper on rents and housing prices.
Buying at peak prices when rents have fallen from peak levels means you are paying a higher valuation. This is a dangerous scenario that can't last forever.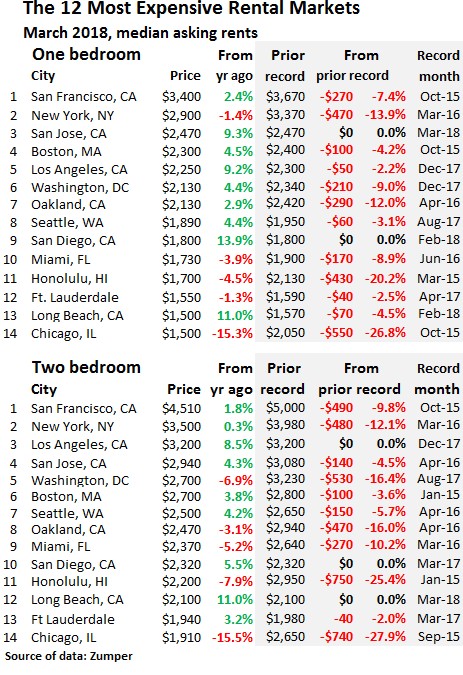 Save
2) Mortgage rates are rising.
With the surge in the 10-year bond yield to 2.85%, mortgage rates are following suit. My last mortgage refinance was in 2016 when I locked in a 5/1 Jumbo ARM at 2.5%. This same mortgage is now 3.58% based on the latest rates. In other words, if I were to take out the same mortgage today, my monthly payment goes from $3,951 to $4,535, a 14.8% increase. A 14.8% increase is significant because average income only increases by ~2% a year.

Save
5/1 ARM Mortgage Rate Breaking Out
While 3.58% is still relatively low for a 5/1 ARM, everything is relative, especially since property prices in some cities have risen by double digits since 2012. If the average interest rate for the 5/1 ARM were to rise to recession levels 10 years ago, a $1,000,000 mortgage payment would go to $6,321, a whopping 60% increase.

Save
10 year history of the 5/1 ARM mortgage rate
Here are the latest mortgage rate averages as of February 2018. You can check for a free quote here with LendingTree, a stock I should have bought for under $100 a share when I first met up with senior management a couple years ago. TREE has since tripled in price.

3) Prices have blown past their previous peaks in many cities.
While every city is different, if you look at the prices in Denver and Dallas, you'll find that the prices are roughly 45% higher than they were in 2006-2007. This price performance is similar to San Francisco's. Meanwhile, hot cities like Seattle and Portland are only about 20% above previous peaks.
The US median existing home price is about 12% higher than its previous peak, which is a modest rise since over 10 years have passed. As a real estate investor, your goal is to invest in markets that have both underperformed and have the potential to catch up.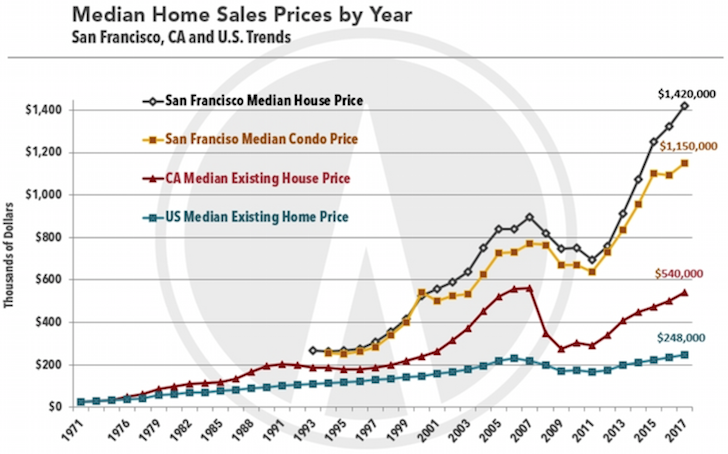 Save
Do you think you should be selling or buying at these prices?
4) Tax reform takes time to negatively impact housing prices.
Conceptually, we all know that limiting state income and property tax deductions to $10,000 and limiting mortgage interest deductions on new mortgages up to $750,000 are net negatives for expensive coastal city real estate markets. Until homeowners file their 2018 taxes in 2019, however, no financial pain will be felt.
Some will argue that lower income taxes will offset these deduction limitations. Perhaps. But nobody really knows for sure until 2019 tax returns are filed and accepted. Tax reform is a headwind, not a tailwind for coastal city property price appreciation.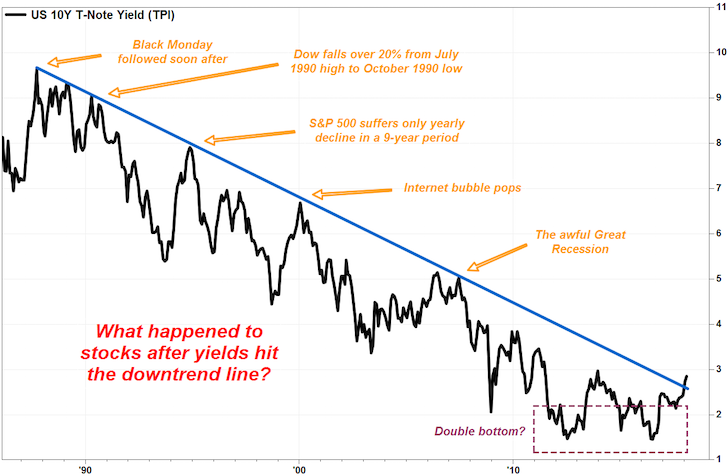 Save
5) Inventory is slowly creeping higher while rents are flatlining.
The construction boom we've experienced over the past several years is finally showing up in the data as a wave of new inventory hits the market.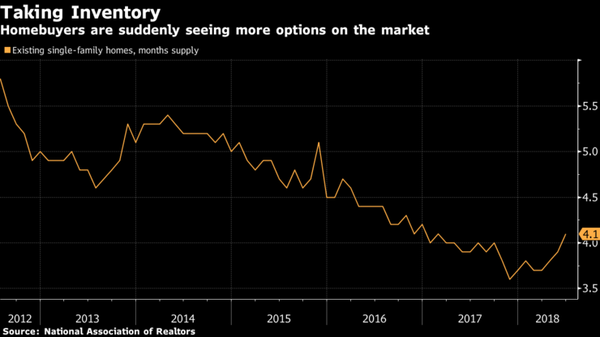 Save
Although inventory is still historically low, it's important to realize the inflection point we've experienced in mid-2018. In just several months, the amount of inventory is back to where it was at the end of 2016. If the trend continues, we could quickly get back to an inventory glut seen pre-2012.
Higher inventory also leads to flattening or lower rent prices. Here's what's going on with Seattle and San Francisco rent, for example. These two property markets have been the hottest in the country. But finally, we are seeing a cooling as buyer fatigue sets in.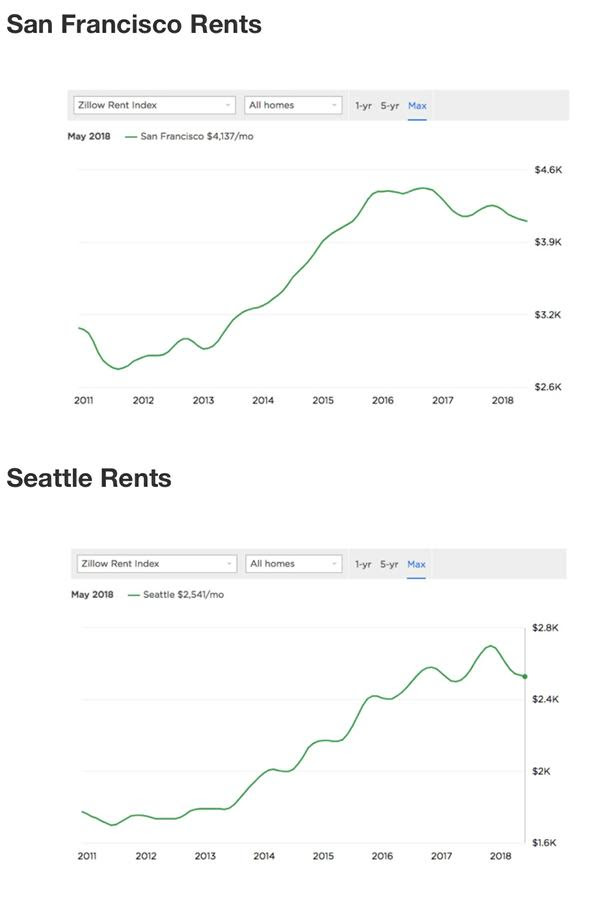 Save
6) It takes a while to recognize a peak.
The housing boom that began in January 1996 ended in March 2006. But it wasn't until the beginning of 2008 that people started to accept that the housing market had already peaked. Until 2008, property investors were still clinging to hope or at least were in denial that prices would no longer be going up. Once Bear Sterns was sold for nothing to JP Morgan in March 2008, people started to panic. Then Lehman Brothers went under on September 15, 2008, a full two and a half years after the housing market peaked. And things got even worse, with the S&P 500 finally bottoming out on Feb 1, 2009.
Below is a great chart that shows how badly housing prices corrected in some of our major cities. Notice how the previous boom lasted 10 years and the crash lasted 5 years. We're now going into the 8th year of a bull market.
Save
Keep Your Unbridled Enthusiasm For Housing In Check
The mass media and the real estate industry will focus on strong demand, strong job growth, and a dearth of inventory as drivers for higher property prices in 2018 and beyond. That's fine if you can surgically buy in strong job cities via real estate crowdfunding. If you look at property nationwide as a whole, prices will probably continue to go up in the low single digits percentage-wise.
However, if you look at individual markets, you are beginning to see cracks in the foundation. I don't recommend leveraging up to buy expensive coastal city real estate as an investment at this point in the cycle. Look to the heartland instead, where valuations are much cheaper and net rental yields are much higher.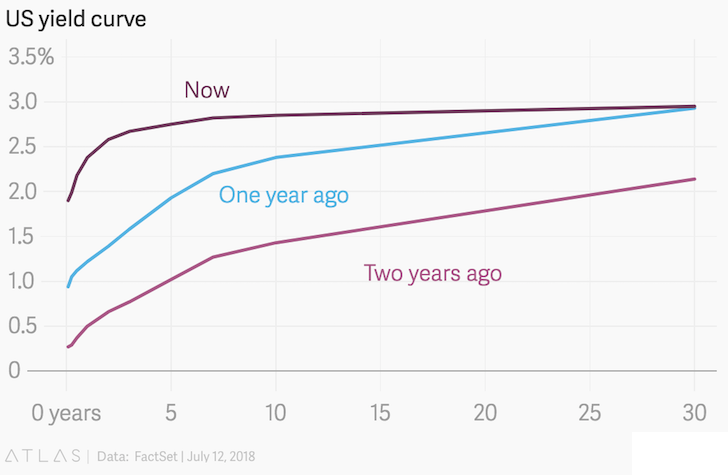 Save
If you're dying to buy a primary residence today, make sure you can withstand a 20%+ correction over a five year time frame, if history is any guide. If you don't have a financial buffer equal to at least 10% of the value of your property after putting down 20%+, then you are not financially prepared for a downturn. Better yet, pay cash.
Too much debt is really what will kill you if we ever return to hard times. Buy a house to enjoy life instead of looking to make a profit. I doubt we'll have a correction as violent as the last one given lending standards became far tighter after the housing crisis. All the same, please buy and borrow responsibly. The stock market is a forward looking indicator that is showing strains ahead.