Courtesy Of Financial Samurai
Check out
Wall Street Forum's Alexa Rank
There's a fun hypothesis saying that you are the average of the closest five people around you. I believe this to be true, do you? What's interesting about the blogosphere community is that anybody with enough intention can start a website. The link gives you a step-by-step guide as to how you can get up and running in under 30 minutes. Some blogs are interesting, some are not, but regardless we can all compete with the Business Insiders, Huffington Posts, and BuzzFeeds of the web in our own niche way!
Alexa is a dynamic website ranking and information company owned by Amazon, which has over 40 million users worldwide. The toolbar is free and easy to download. The Yakezie Alexa Ranking Challenge is straightforward. If you're outside of the top 200,000, get in the top 200,000 within 6 months. I can't even name 100 sites, let alone 199,999 sites. Can you? If you're already in the top 200,000, get in the top 100,000. And if you're already in the top 100,000, get in the top 50,000.
There are some who poo poo the Alexa ranking system, and I recognize their two main arguments: 1) The system only tracks visitors who have the Alexa Toolbar installed, and 2) There are cases where some websites with bazillions of users have a worse ranking than sites with less users. We don't know why, because we don't fully know what goes into the calculations. It may be because readers don't visit and just read off their RSS. That said, the Alexa ranking system continues to grow, and is the best system we got. At least 40 million webmasters around the world think so, and there has to be something to it if Google, Facebook, Yahoo and YouTube are ranked #1, #2, #3, and #4, respectively.
Since starting this site, I've been rejected as a guest poster, didn't even get responded to, let alone make it as one of the 7 finalists for one site's staff writer tryouts, denied admission to a personal finance blog network, and even got my first carnival submission rejected. But through all the rejections, I took comfort in my friend, Alexa, who is always by my side motivating me to keep going. I'm sure many of you have been rejected as well. Here's your chance to create our own network of powerful friends by joining the challenge!
BENEFITS OF BEING IN THE TOP 200,000* You'll get to compete for a spot on the top personal finance blogs list (Yakezie Network).
I've heard some publishers in the Top 100 don't even bother to associate with others outside page 1. Oh, the snobbery! But seriously, if you're on page one of any top blogging list, opportunities start coming to you, because this list has become the default ranking in the community, and the default ranking in the community uses Alexa.
* Motivation
. Unless you've got an established blog already, writing gets very lonely and discouraging sometimes when not many people come to visit. You might say you are writing for yourself and don't care, but if that's the case, why make your writing public? Witnessing progress is fun!
* If you love free swag,
you'll get approached by authors and publicists looking to send you tons of free books to review and giveaway. You may even get a catalog of a publisher's entire library of books from which you can choose from. I even got an $800 product to stand on for my standing desk! You know how movie stars get all those
goodie bags
of stuff to sample at the Oscars even though they're already rich and don't need more free stuff? It's kinda like that, a virtuous cycle of people who provide mutual benefits. If you someday wish to write a book, you now have direct access to the very people who reject hundreds of authors everyday!
* Advertisers will flock to you
, and ask you to pimp things you've never heard of. Some of them, could be gems, but many will be junk traps. On occasion, you'll find some amazing products that just fit so well with your content. If you have an established site, going to advertisers with affiliate programs becomes much easier as well.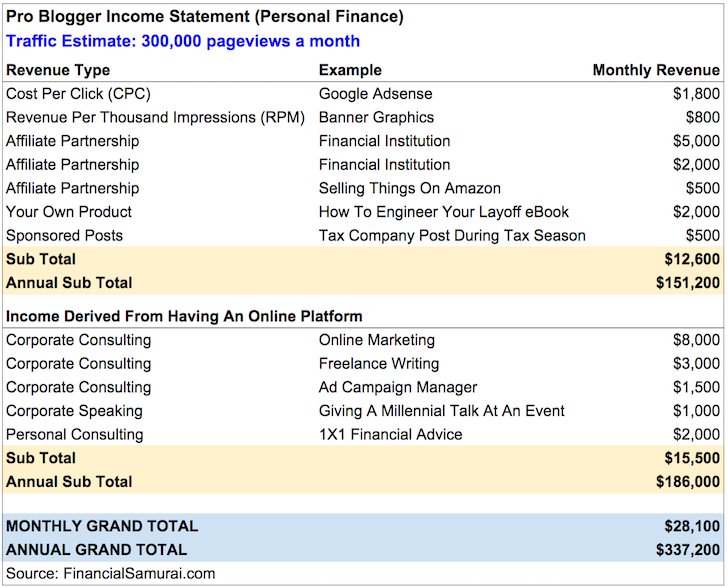 Save
Here's how much you could make with 300,000 pageviews a month
* Other big sites who never bother responding to you
, suddenly take notice and give you the time of day. Those comments you leave asking for feedback or help actually get addressed. Cut them some slack though, because I'm sure they get inundated. You can also join plenty of "exclusive" networks if you wish.
* You can earn corporate consulting income or freelance writing income.
You can also leverage your site to be your resume for new consulting gigs. I've received multiple six figure consulting gig opportunities with financial tech startups since I left Corporate America in 2012. Once was with Personal Capital for two years, and another is with Motif Investing. Both are innovative fintech companies, which I'm proud to promote on my site because they are helping people make and save money. Personal Capital is great for tracking your net worth for free. Motif Investing is a much cheaper way to build an investment portfolio and invest in your stock ideas.
* You cultivate a competitive edge
, get inspired and appreciate those who are way up the rankings. I used to think watching golf on TV was extremely boring. After I began hacking it up on my own, I now find watching golf extremely fascinating! Same thing with a website. You truly start to appreciate the marketing geniuses of some bloggers out there, and therefore strive to better yourself.
* Girls or guys, depending on your sex and preference, will love you
when you say you have a "top" website at the bars. For a brief moment, you can escape your mundane day job and pretend you are someone really important. You could try saying, "Hi there good looking, I am the the CEO & Editor of X, America's #1 personal finance site" for example, and you'll immediately be whisked away into la la land. After all, bloggers are the some of the sexiest people on Earth who also happen to live a life of freedom!
TIPS ON BREACHING ALEXA TOP 200,000* Badge & Toolbar.
Download and install the Alexa toolbar and put the badge on your site. The Alexa toolbar is fascinating because it shows you so much detail about other sites you visit.The badge will naturally peak interest as well. The ranking is dynamic, and motivating.
* Content.
Nothing else really matters, and that includes doing all that SEO stuff. I had no idea what a site-map was, or what SEO (Search Engine Optimization) even stood for the first 4 months. If you write something you feel strongly about, you'll do great. Try and write with a thesis. Whether you are right or wrong is besides the point. What's more important is to get readers thinking about the topic at hand. Write what you know, too, because if you try to fake it, people can tell.
* Content Length.
Did you know that the average person spends just 7 seconds on a resume? The point is that people have short attention spans, and if you write in huge paragraphs, with no breaks in the post for categories, you'll likely lose readers. After the 1,500th word, people's eyes start glazing over, unless it's superbly written. This post violates this rule with 2,100 words, so I need to practice!
* Personality.
Realize that you can't please everybody all the time. If you write with no thesis, no conclusion, no personal spin, then what's really the point? The great thing about the internet is that the market place is so huge, if our friends in America aren't stopping by, maybe our friends from Australia will!
* Frequency.
If you can post 2-4 times a week, that's good enough! You can try posting everyday, but you increase your chances of burn out, and you're not getting maximum exposure for the articles you've written. Notice how comments fade from your post after a new one comes, even though the older article is only a day or two old Instead, use the days off to visit other sites, comment, build relationships and let your articles percolate.
* Branding.
Get an image that one can easily recognize as you. Go to Gravatar.com, and use that image in many things you do. There are a lot of Davids, Johns, and Jims in the community. Instead, sign off as a variation of your site, or your site itself because nobody has a monopoly on your common name, and you may confuse others.
* Read & Comment.
Actually read an entire post and get the concept. If the post is too boring, skip it, but if it's interesting enough, share your thoughts. Comments inspire writers, because it shows that someone is listening. There will be reciprocity.
* Twitter.
Twitter is probably the best micro-blogging tool out there, which I don't do enough because it's off during the day. I'm amazed how some have thousands of followers, and can also follow hundreds of people as well. Make sure you have a widget that will allow others to retweet your content easily.
* Guest Post.
Tap other bloggers' audiences by writing your best stuff for other people. You'll inevitably gain some fans from their RSS or e-mail distribution list. Guest posting is one of the fastest and best ways to develop linkbacks and reach people you want to reach.
* Promote Others.
If you're scraping the bottom of the barrel in the rankings, be selfless and promote others relentlessly. Even if you are doing OK for yourself, promote others freely. That includes re-tweeting and highlighting other articles on your own site. The higher ranked sites will be appreciative and eventually return the favor.
* Don't Think About Making Money.
Because it will likely take a year or so if you're lucky to earn over $1,000/month from your blog, the money you receive may demotivate you. As soon as you start writing for money, you start losing your soul and it's not as fun. Write what you want to write, and the money will come.
FOCUS ON HELPING OTHERS!If you just focus on two things, focus on content and promoting others.
We've taken the initiative to start something on our own, so we might as well give it our best shot. Like all ventures, it's not easy maintaining the intensity and team effort goes a long way. If we're all in the top 200,000 by summer, we'll be quite an influential bunch! Just think about all the things we can do.
Once you break your particular Alexa benchmark, you can officially call yourself a
Yakezie
(pronounced
yah-KAY-zee
, and not to be confused with Yakuza). Fail to achieve your goal in six months and you don't have to chop off your pinky! Who's in?
To Join The Samurai Alexa Ranking Challenge
1) Install the Alexa toolbar if not already and comment what your current Alexa ranking is, so we can keep track.
2) Write consistently 2-4 times a week on your own site and consider guest posting around the community including on Yakezie.com to raise your profile.
3) Install the Yakezie Challenger Badge.
4) Announce on your blog that you have joined the Yakezie Challenge.
5) Selflessly promote others and build relationships.
6) Stay committed and consistent over the next 6 months! Whether you are a huge blog or a start-up, everybody most go through a 6 month Challenge period to ensure that we build the best relationships possible.
7) Come introduce yourself on the Yakezie Challengers Forum and get to know your fellow Challengers and Members.
8) Once the 6-month challenge is over, let us know how far you've come in the forums, on your blog, and via an e-mail. If you've developed good relationships, broken 200,000 in Alexa, and are ready for the next step, we will invite you to submit a form and write your Yakezie Member Post and become an official member.
Start An Awesome Blog Today
It's been seven years since I started Financial Samurai and I'm actually earning a good multiple six figure income stream online now. Roughly 74% of my traffic is from organic search, which means the majority of my traffic and revenue is passive.
I never thought I'd be able to quit my job in 2012 just three years after starting Financial Samurai. But by starting one financial crisis day in 2009, Financial Samurai actually makes more than my entire passive income total that took 16 years to build. If you enjoy writing, creating, connecting with people online, and enjoying more freedom in your life, see how you can set up a WordPress blog in 15 minutes with
Bluehost
. Hosting costs less than $3.5 a month. Everybody should at least have their own website to establish and own their brand online. Corporates have benefitted greatly from the internet, so should you.